---
SGCH

Lucky Star's LOT Vivian

4*M
S- *B Little Orchard Pure Thrill Reference Bucks
D- GCH Lucky Star's Natural Raquel 3*M
Reference does
DOB 4/2/2005
LA 6-04 93 E E E E
LA 7-04 93 E E E E
LA 8-04 93 E E E E 3 different appraisers
LA 9-05 94 E E E E

1-10 342 3300 147 4.4% 113 3.4%
2-10 304 3540 160 4.5% 119 3.4% Top Ten
3-09 303 2450 113 4.6% 81 3.3%
4-10 313 2390 115 4.8% 85 3.6%
5-10 305 3480 152 4.4% 116 3.3% Top Ten
6-10 305 3410 151 4.4% 112 3.3% Top Ten
6-10 364 3780 169 4.5% 125 3.3% extended
8-00 272 2520 102 4.0% 85 3.4%
8-11 291 2620 114 4.4% 86 3.3%
Her 10th, 11th and 12th lactation we ended early to reduce our chores.
Lifetime is 2893 days 26,520 milk 4.4% BF and 3.4% P
PTI 133 121
PTA 104M 6F 5P
About Vivian: DNA TYPED Alpha s1 Casein A/A

Vivian was recently confirmed to be one of the very few does who appraise 94 E E E E we were honored and thrilled with this news!
Vivian was shown 4 times in 2011 going BEST IN SHOW the first 3 times and Reserve Grand behind Xhibit at "State Fair". Shown only once in 2012 she was 2nd in Champion Challenge at State Fair. Shown only once in 2013 she was 3 place Champion Challenger behind Xhibit and "Fish". We were delighted for this 8 year old to be so competitive. In 2014 she was first place as a 9 year old in the over 7 year old class.
Vivian is turning into quite the brood doe with 7 very pretty daughters. Several daughters and a son are leaving their mark in our herd.
As a two year old one of Vivian's "firsts" was at the 2007 national show out of 55 entries!
Her fore udder extension is excellent, the height and width of rear udder is also very good. She is a tall (34" as a 3 yr. old) and is a very long doe, but it is her extraordinary mammary that catches everyone's attention.
She does have a plain (strong) head.
She milks well, shows well and appraises well, yet another doe to reach all our goals. In addition, she produces beautiful offspring.


She is bred to Texas Girl FL Jefferson BUCKS .A very strong line breeding that has us excited. for her 13th freshening.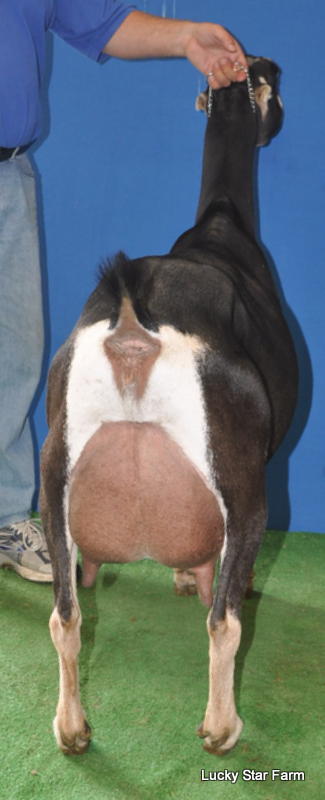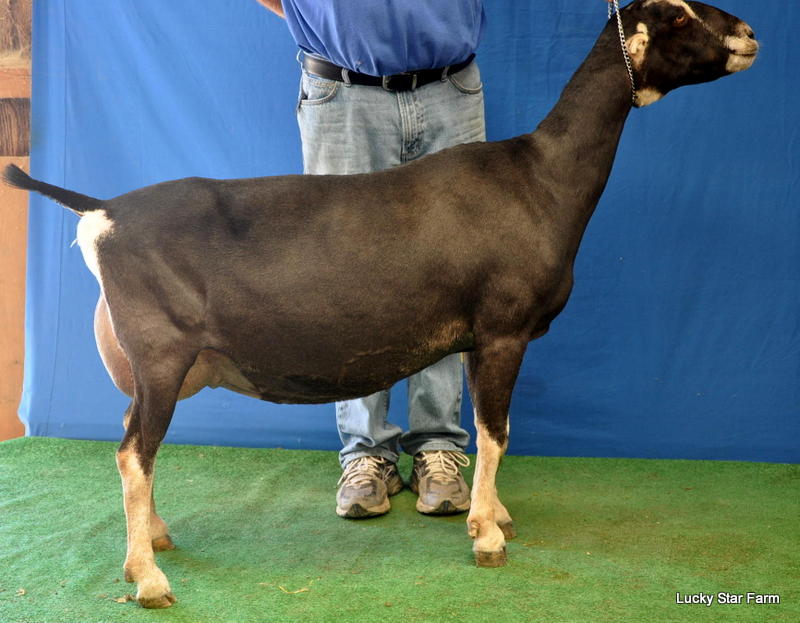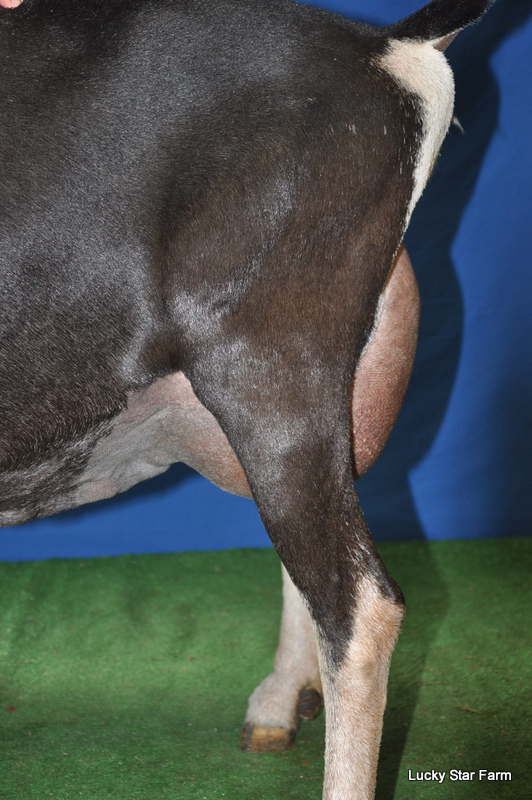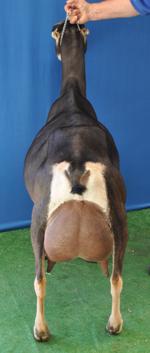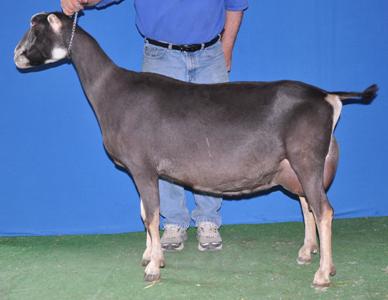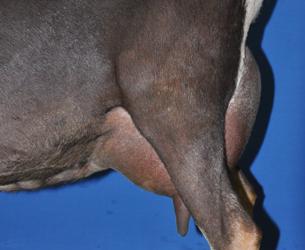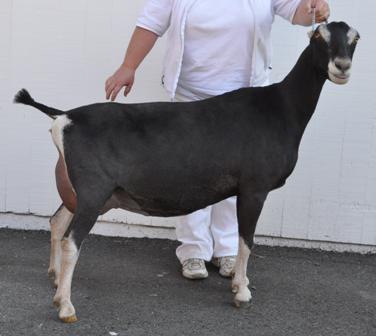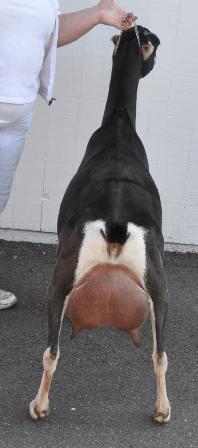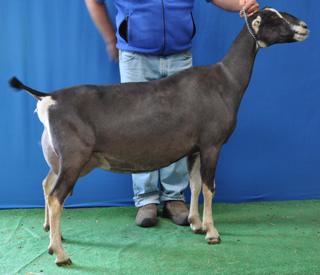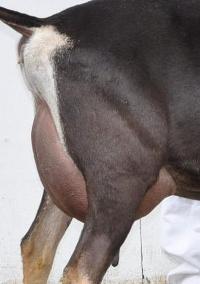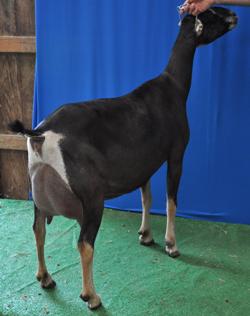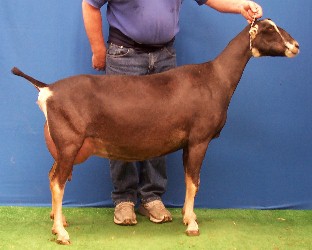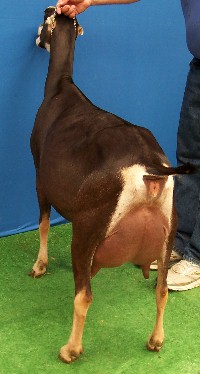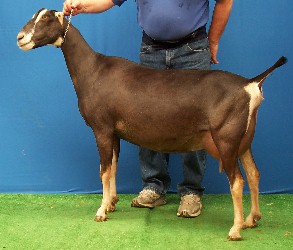 Top 3 pictures are of Vivian as an 9 year old-She continues to age beautifully.
Next 3 pictures are of Vivian as an 8 year old.
2 pictures are Vivian as a 7 year old in September 2012.
Next Vivian as a 6 year old Spring 2011 on apprisal day.
Bottom 4 are from her 3 year old year
No matter which way you take a picture--this doe is special.
---
SGLucky Star's AV Yvonne II 5*M LA 90
SG Lucky Star's AV Zsa Zsa 5*M LA 90
A Vivian daughter Past does
A Vivian daughter who has moved to a new farm. Reference does
---
SGCH Lucky Star's AZ Anjelica 5*M
S- *B Alder*Rose Zakharov Reference Bucks
D- SGCH Lucky Star's LOT Vivian 4*M Dandy Page
DOB 2/12/2010
LA 1-04 V V V E 88
LA 2-05 V E E E 90
LA 3-04 V E V E 90
LA 4-05 E E E E 91
LA 6-06 E E E E 92
1-01 286 2130 92 4.3% 71 3.3%
2-00 305 2330 103 4.4% 77 3.3%
3-00 313 2470 111 4.5% 85 3.4%
4-00 299 2700 118 4.4% 87 3.2%
4-11 422 3230 124 3.8% 102 3.2%
6-03 220 1580 64 4.1% 50 3.2%
7th lactation cut short to reduce chores.
PTI 69 89
PTA 39M 2F 2P
About Anjelica:

Angelica quickly made a mark in the show ring and received lots of attention with her lovely capacious mammary as a yearling. She came back to the show ring as a 2 year old placing first in her class 4 times and 2- RGCH and 1-GCH with one BEST IN SHOW and 2 times BEST UDDER OF BREED and 1 time BEST UDDER IN SHOW at the large North West Oregon dairy goat show in June.
As a 3 year old she finish earning her GCH in the competitive northwest with 2 GCH wins and we were delighted.
Anjelica is producing close to 3,000 this year and has plenty of butter fat and protien- a cheese makers delight.
Anjelica is one of the does we have dried off to reduce our work load. She is retired from the milk and show string.

She will be bred to *B Lucky*Star's GE Jester BUCKS This is another line breeding on Vivian. We would love to see the strength of Drama come through in kids from this cross.
---
SG Lucky Star's LB Courtney
S- *B Lucky Star's RA Bravo Reference Bucks
D- SGCH Lucky Star's AZ Anjelica 5*M
DOB 2/26/2012
LA 1-03 V V E V 87
LA 2-04 V E E E 90
LA 4-04 V E E E 91
LA 5-03 E E E E 91
1-01 282 1570 68 4.3% 61 3.9%
2-00 305 2490 109 4.4% 91 3.7%
3-00 300 2470 102 4.1% 91 3.7%
4-00 288 1980 83 4.2% 75 3.8%
4-11 210 2200 83 3.8% 79 3.6% (in progress)
PTI 39 74
PTA 4M 0F 3P
About Courtney:
After every Bravo kid from the Vivian family was spoken for-Don put his foot down and said he got to keep at least one. And since this one had a a spiffy bracelet and liked him-she was his choice.
Courtney is living up to all our hopes that we have had for her. Placing first when shown and both a GCH and RGCH win to her credit.
As a 4 year old she added another RGCH and 1st or 2nd as a 5 year old.

Coutrney was bred to *B Rockin-CB KWY Jiangxi BUCKS
We may just keep a doe kid this year.
---
SG Lucky Star's LB Debra
S- *B Lucky Star's RA Bravo Reference Bucks
D- SG Lucky Star's TA Bette Davis 5*M LA 90 EEEE Vivian page
DOB 2/23/2013
LA 1-05 V V + V 86
LA 3-05 V E E E 91
LA 4-03 E E V E 91
Excellent in Shoulder Assembly, Front Legs, Back and Rump
1-00 305 1780 69 3.9% 64 3.6%
2-00 341 3040 118 3.9% 108 3.6%
3-01 288 2210 90 4.1% 81 3.7%
4-00 183 1930 69 3.8% 69 3.8% (in Progress)
PTI 81 82
PTA 86M 2F 5P
About Debra:
Debra has had a stellar show career so far with many firsts and a few seconds. We are very pleased with how she is developing. Slow and sure.
We think the future is bright for this promising doe.
Not shown in 2017 as we took only one 4 year old to the shows and that was Drama. next year will be Debra's turn tp gp back to here winning ways.
This doe has one of the very best Mammaries we have had.
Debra will be bred to *B Rockin-CB KWY Jiangxi BUCKS This is a very exciting cross and hope to retain a doe kid. But you never know so ask if interested.
---
SG Lucky Star's RD Faye
S- *B Rockin-CB RCC Draco Reference Bucks
D- SG Lucky Star's LB Debra 6*M Vivian page
DOB 3/20/2015
LA 1-05 V E E V 88
LA 2-02 V E V E 90
1-00 286 1740 69 4.0% 63 3.6%
2-00 158 1590 45 2.8% 51 3.2% (in progress)
PTI 98 77
PTA 96M 4F 6P
About Faye:

We love this party colored doe and for her to stay with those marking you know how nice she is.
Shown 7 times this spring she was 1st 7 times and 2nd 1 time. We are excited about this promising doe.
One of her first places as at the Washington State Fair with 20 milkers in her class alone.
Faye is bred to Texas Girl FL Jefferson BUCKS