ZOË
Kayirici's Talihli Zoë (Lucky Zoë)
AKC/UKC Registered
OFA-EXCELLENT
Fawn with Black Mask • Born October 22, 1998
Sire: Mangham Manor's Kayiruci Yoldas OFA Excellent
Dam: Patent Pending Kayirici Melek-GDC Good

Litters from Pasha & Zoë: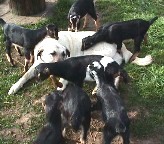 Zoë very quickly established herself as an excellent livestock dog. We had hoped she would be our house dog with our Corgi, Caleb, but at 3 months old she started going to the barn each morning for chores and in a very short period of time she decided not to return to the house. She is a bit hard headed about her way and attempts to be assertive with people and other dogs. This was a bitch who needed an "alpha roll" daily for a long time. She is outstanding with the baby goats and for some reason, unknown to us, she is the first dog Pasha has let near the goat kids. She is very smart and is turning into a good obedience dog in spite of her stubborn streak. This clever girl learns how to open pens and gates and makes good use of any observations she makes. She is exceptionally tolerant of the baby goats and allows them to climb all over her. Pasha usually stays with them until they are 1-2 weeks old and then he gives up. Their sharp little feet bother him. Zoe takes over and she stays in their pens at her choice from then on. She comes and goes over the fence and taught a whole group of kids to jump!! (not a good plan).